performed at Highways Performance Space,
Santa Monica, CA, September 15, 2000
Text and photos by Rachel and Richard Worth
(headshot provided by Dolores French)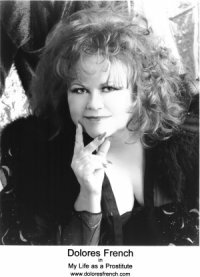 Dolores French has a career that makes her the envy of some and causes the loathing of others. She has been working as a prostitute for 22 years, since the age of 27. According to Dolores, the average working life of a prostitute is 3½ years, so she has been in the business far longer than most. And guess what? She really, really loves what she does!
She started out helping other prostitutes fight for their rights. Then, one time, a prostitute with whom she worked at a radio station couldn't make it to an appointment with a client, and Dolores went instead. She began in Atlanta and received some of her early training at a Puerto Rican whore house where she learned to "turn a trick in seven minutes."
She is well-known for her book, "Working: My Life as a Prostitute," which she wrote in 1988 and has been published in many languages. She has made the talk show circuit on television, appearing on Oprah, Phil Donahue, Geraldo, Joan Rivers and others.
She now enjoys providing clients with very personalized phone sex or in-person sessions. During her stage performance, she gave a sample of the phone sex through occasional calls to or from "Steve" who enjoyed changing into his "Stephanie persona." Steve, a lawyer, likes to be submissive, obeying alternately his Mistress or Mommy. He gets off on wearing lacy panties and a butt plug. He submitted to whatever humiliation or pain Dolores could conjure up for this "naughty little girl," like making him put Ben Gay on his freshly shaved balls.
Mistress Dolores enjoys fetish, and shared with the audience what the good dominatrix should carry with her. Some of the items in her "bag of tricks" included things that made the audience squirm in their seats, some in anguish and others with pleasure(?). As she held each item in her hand, a picture of it was also shown on the large screen at the front of the theater. Some of the more unusual items included snake bite cups, a dick cuff, a toilet bowl brush (yep, that's right), a medical catheter, and a parachute ball stretcher. Dolores said that "fetish isn't just sexual titillation, but therapeutic role playing." "I get to be a therapist," she joked.
| | |
| --- | --- |
| | Mark Kernes from Adult Video News was a willing participant when Dolores wanted to demonstrate how she could put on a condom with her mouth. No, he didn't have to unzip for this; she gave him a dildo to hold between his legs. |
Dolores shared many stories of her life: telling her parents (in writing) what she was doing for a living after taping the show for Donahue, having a shotgun at her head during her one-time close encounter with a crazy client, and her dismay at the irony of a legal system that outlaws the purchase of sex and sexual paraphernalia but allows the purchase of guns.
Dolores is married to a criminal defense attorney who says, "We're both doing the same job--we both get paid to get our clients off." In addition to continuing her work in prostitution, she writes a column ("as a kind of sex-positive Dear Abby") for "The Scene," an Atlanta magazine. She sees all that she does as using all her accumulated wisdom "to help others renew their self-esteem."
| | |
| --- | --- |
| | Clea, an admiring fan who read Dolores' book, asks for and receives an affectionate kiss. |
| | |
| --- | --- |
| | Will Jarvis, a.k.a. Taliesin, a friend of Delores', gets a nice hug against a soft, warm bosom. |
Performances will continue next weekend on September 21-23 at 8:30 p.m.
Highways Performance Space
1651 18th Street
Santa Monica, CA
(310) 315-1459
Dolores French's website: http://www.doloresfrench.com

Return to the Worth-a-Million Home Page