"I'm known as the little Latin girl that takes it up the ass," says Justine. She just started doing anal in videos and says she's also enjoying it in her personal life.

She has been a very busy girl in the short time she's been in the industry. In addition to performing in Slutwoman 2 for Elegant Angel, she has done videos for VCA, Wicked and All Good Video, as well as some for Sean Michaels and Randy West.

A few of the video titles are Dr. Fellatio 22 and 23, Catalina Cum-Ons (with Chloe), Partners, and the Pink Package.

She has done squirting, anal, boy-girl and girl-girl. She has been enjoying it all, but says her favorite so far was Luciano's Lucky Ladies where she did a scene with Heather Lyn.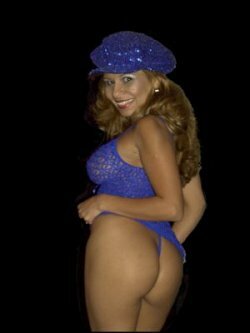 She also dances, and features at a club in Corpus Christie, Texas. She is looking to do the circuit throughout the U.S.

Justine has a wonderful, recently-activated website: http://www.xxxjustine.com. She has lots of photos and interesting autobiographical information on the site. Nina Hartley is one of Justine's favorite people ("she's awesome!"), and is responsible for getting Justine into the business. Nina had featured at the club where Justine was also dancing and patiently answered all of Justine's questions. Dave Cummings also gave her some great advice and helped her get started in the business. He has remained a good friend of hers.

She says she "used to watch videos all the time and fantasized about all these people, so now that I'm in the industry I get to fuck 'em." Speaking of fantasizing, she would like to work with Peter North.

Her advice to others: "If you enjoy what you do, by all means do it. It's like any other job. If you're getting into [the Adult Industry] for the wrong reasons, maybe you should think about it again. I love this Industry, but there's good parts and bad parts, and luckily I have not been to any of the bad parts yet. I've always had positive feedback. A wrong reason [to get into the business] would be if you are pushed into it, or you don't enjoy the sex."

In looking to the future, she would love to have her own production company. "I watch everything that everybody does. I love it. My interest is in this industry--whether it's dancing or something else. Keep watching me; hopefully, I'll be out there for a long, long time."

Check out Justine's free website.





Return to the Slutwoman 2 Party

Return to the Worth-a-Million Home Page