"You never know when you're going to find me playing with my feet or my pussy...," says Nikki when recounting her extensive involvement in the adult entertainment industry.

She has done fetish videos for 4 1/2 years, explaining, "I've been bound, gagged, saran-wrapped, waxed, and tortured with clothespins."

Nikki goes on to say that she's well-known for taking mousetraps on her pussy and clothespins all over her body. She said she has a high tolerance for pain and loves a good spanking.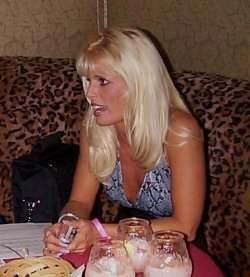 She did a pee video where she was able to do a stream of pee that shot seven feet or more. "I actually was able to hit the cameraman, so it was pretty fun that day. When I can outpee a guy--that's great."

Part of her busy schedule includes doing hardcore sex shows and solo masturbation on the Internet. She does the sex shows for four hours straight, to make sure she gets all the proper camera angles. "It's a blast," she says. Her work on the Internet includes the sites Nooky @ Night (http://www.nookyatnight.com) and Lissa's Feet of Dreams (http://www.lissasfeetofdreams.com). On Lissa's site, they do battling babes, and Nikki does wrestling. "This is an industry where you keep in shape."

A video shoot that she particularly enjoyed was with Felecia and Inari Vachs in No Man's Land 30. "It really rocks! There was lightning and thunder going on that day; it was great."

She says she's having an absolutely great time doing girl-girl work right now, and she would like to do boy-girl. She's been working with her partner, Tom Seiko, the last couple years, but says, "I've talked to Evan Stone about doing my first scene with him. I've also talked to Lee Stone. There's a couple gentlemen out there that I've thought about--maybe Marc Davis--I just haven't really sat and talked to them yet and found out if they want to be Nikki Steele's first or not."

She does some magazine shoots and also is thinking about getting back into dancing, which she did about seven years ago. "There are a lot of people who are really interested in seeing me get back on the road and dancing, now that I have the name and people know who I am."

She is at CES every year [in 2001, the Adult Expo is separate from CES]. "I usually sign at the Fallen Angel booth, but this year the fans will have to come looking for me. I love seeing my fans; it is the best time of the year. The more time you can spend with a person, that really does matter to those people. They go home thinking that here they met somebody famous; they're a real person; they're not strung-out or a hard person to get along with. When they go to leave, they say, 'Nikki it's fantastic to see that you're a bubbly human being; you've got a head on your shoulders; we love watching what you do, whether on the Internet or in films. The fact that I've now met you and you're a real person, I'm on Cloud 9.' When that person leaves, I feel so good about myself. How could it be wrong?"

Her advice to newcomers to the porn business: "You really need to talk to some of the other girls when you first decide to get into it. Find someone like I am who's been into it a few years and has decided maybe what route they want to take. They know who they like working with and who they don't. I try to help focus the 18 year old girls just getting into the business. You need to know what you want to do and who you want to be with so you aren't talked into scenes you really don't want to do."

"Once you've gone there, you can lose yourself really easily. Don't get into it because of the money or the glamour; get into it because it's something you really want to do, whether it's the sex industry or the fetish industry. Nothing's hidden in this industry. We take care of ourselves really well. We get tested every month. We're careful with what we do. We maintain ourselves really well. They're some of the best people you'll ever find."

Her plans for the future include getting her site (nikkisteele.com) up and running, and she would love to get some girls to work for her. "A lot of people have made some good money off of my name, where I've missed out on it. I'd like to see some of the other girls not go through some of the things I've gone through."

"I'd like to get my retirement in order. Maybe I'll be going into production and taking care of some of the new talent. I really want to do a series showing model homes; it's kind of a voyeuristic look at real estate." [She gave us the details, but wanted to keep it a secret.]





Return to the Slutwoman 2 Party

Return to the Worth-a-Million Home Page